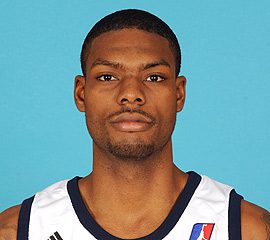 Justin Hawkins NBA D-League
Former New Mexico State player Justin Hawkins was selected by the Los Angeles D-Fenders in the NBA D-League draft on November 7th.   Hawkins was selected in the 2nd round and was 36th overall.
Justin is a native of Anaheim, California and played for NMSU from 2006-2008 and scored 1,126 career points in just two seasons at NMSU, averaging 18.1 points per game and 7.8 rebounds per game in the 2007-2008 season. Hawkins transferred to NMSU after playing his first two years of college basketball at Utah.
Justin was named MVP of the 2007 Western Athletic Conference Tournament, leading the Aggies to a WAC Tournament title and a NCAA Tournament appearance.
Justin's Professional Career: 2008-2009: July, NBA Summer League in Las Vegas (Sacramento Kings) … Besancon Basket Comte Doubs (France-Pro A, starting 5) 25 games: 13.3ppg, 4.6rpg, 2.2apg, 1.4spg… 2009-2010: July, NBA Summer League in Las Vegas (LA Lakers)