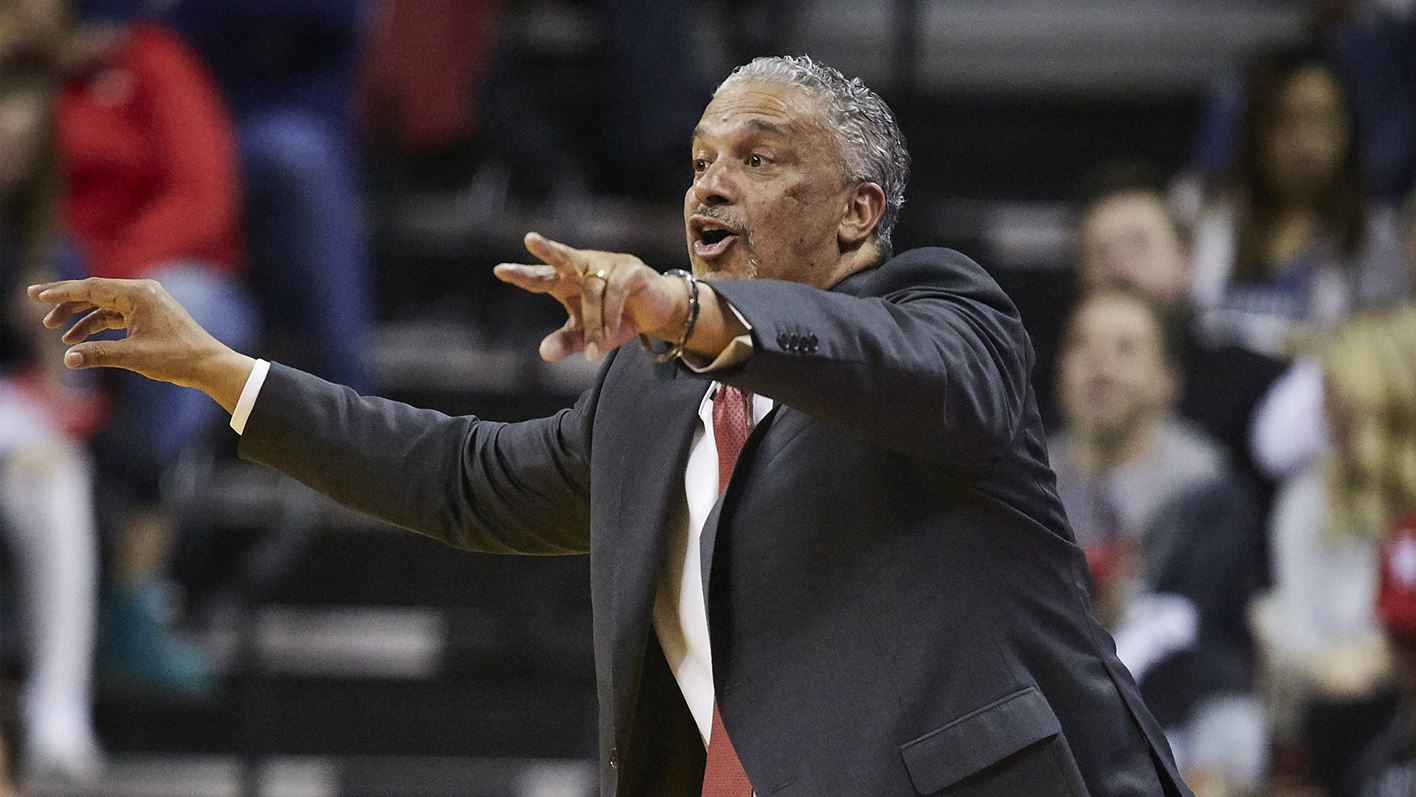 Menzies Joins GCU Majerle's Staff as Associate Head Coach
Menzies joins Majerle's staff
Former UNLV, NMSU head coach brings recruiting reputation
4/18/2019 3:45:00 PM
By: Paul Coro
Marvin Menzies, a renowned recruiter and keen talent evaluator, will make Grand Canyon University home for his 30th college coaching season and beyond.
The former New Mexico State and UNLV head coach is joining the GCU men's basketball staff as its new associate head coach.
Menzies won 61 percent of his games over the past 12 seasons as a head coach, leading New Mexico State to four consecutive NCAA tournament bids from 2012 to 2015 and improving UNLV from an 11-win team in 2016-17 to a 20-win team in 2017-18, the Runnin' Rebels' first 20-win season in four years.
"Tammy (his wife) and I are thrilled to join the GCU family," Menzies said. "I'd like to thank President Brian Mueller, Jerry Colangelo and, of course, (head coach) Dan Majerle for providing me this opportunity. I'm excited to get started and be a piece of this wonderful program as we continue to pursue our goals."
Menzies can only help build upon what Majerle has established at GCU, which has won at least 20 games for four consecutive seasons and reached the past two WAC Tournament championship games.
"I'm excited because this is a great step for our program," Majerle said. "We've been very successful. We're just trying to take another step to make that big leap. It's always the hardest so I'm excited about him being part of the process to help us do that.
"He realized how special GCU is. He's like everyone else. He came to campus and was blown away by what he saw. He knows what kind of program we have and how close we are. We're lucky and excited to have him."
The 57-year-old Los Angeles native is known as a dynamic worldwide recruiter whose teams thrived on both sides. His 2015-16 New Mexico State team ranked 10th in the nation for scoring defense and his 2017-18 UNLV team ranked 13th in the nation for scoring offense. That Aggies defense kept opponents to 39.2 percent shooting, the lowest clip at NMSU since 1960-61. He also had a top-10 rebounding team nationally in 2017-18 at UNLV.
Menzies led NMSU to a cumulative record of 198-111 (.641) during his 2007-16 tenure, which included five NCAA tournament visits and producing the program's first NBA first-round selection since 1970 in Pascal Siakam.
At UNLV, Menzies took over the job when outsiders described the program being at its low point. His teams went 48-48 over the past three seasons, using a top-15 recruiting class in 2017 to raise the Runnin' Rebels' Mountain West Conference finishes from 11th to seventh to fourth. This season's fourth-place finish landed four places above preseason predictions, was UNLV's best in eight years and came despite an injury to an all-conference player.
In 2017-18, UNLV earned a Team Academic Excellence Award for the first time in the National Association of Basketball Coaches award's six-year history.
Menzies earned his reputation as a relentless recruiter while assisting big-name head coaches for major programs – two years with Rick Pitino at Louisville, one year with Lon Kruger at UNLV, one year with Henry Bibby at USC to produce a third-ranked recruiting class and four years with Steve Fisher at San Diego State. His recruiting helped revive the Aztecs' program for its first NCAA tournament visit in 17 years.
In college circles, Menzies is renowned by being able to recognize and attract talent. He is widely liked in the profession for his outgoing personality and respected for his work ethic.
"My family and I considered several other offers but we just could not pass up the opportunity to work with a great administration and a great university with an amazing fan base and student population. I'm looking forward to what I can add to what they've already started building."
His collegiate coaching career started at Santa Monica (Calif.) College during the 1990s after he graduated from UCLA in economics with intentions of a career in banking or politics. Menzies was a three-sport athlete, not including basketball, at Hamilton High School, where he began his coaching career as an assistant for eight years.
What coaches say about Menzies
"His genuine interest in the well-being for his players, both on and off the court, sets him apart. I think his passion for what he is doing, his enthusiasm is contagious." – Oklahoma head coach Lon Kruger (coachmarvinmenzies.com)
"Recruiting is about relationships and Marvin has a unique ability to meet a stranger, put him at ease and start building that relationship." – San Diego State head coach Brian Dutcher (Las Vegas Review-Journal)
"Meet him and you think he's instantly a friend, like you've known him forever. He has this great ability to sincerely communicate with people." – former San Diego State head coach Steve Fisher (Albuquerque Journal)
"Marvin has a dynamic personality and is an outstanding recruiter and teacher of the game." – former Louisville head coach Rick Pitino (Las Vegas Review-Journal)