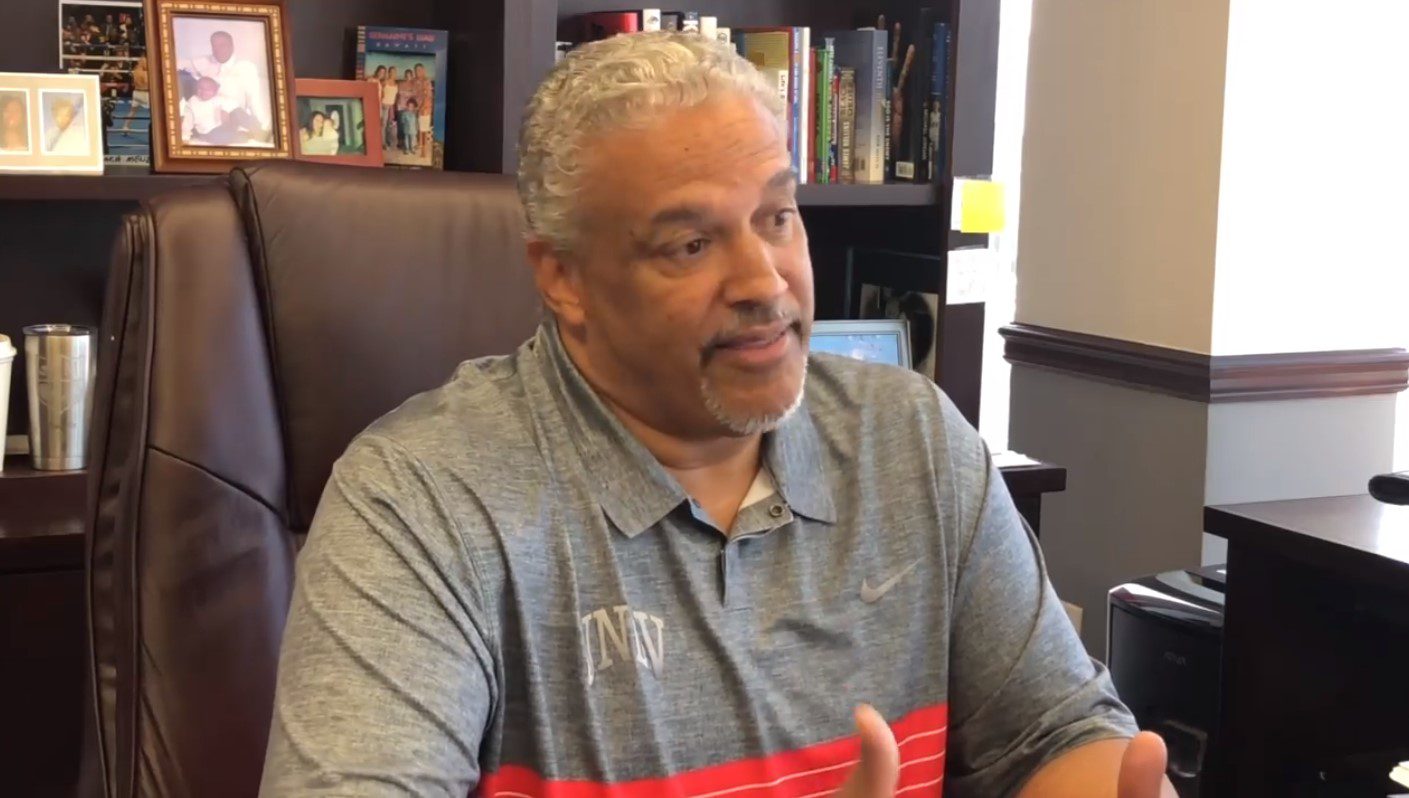 Runnin' Rebel Summer Check-In: Program Build Continues
June 27, 2018
Purchase Season Tickets
UNLV Men's Basketball 2018-19 Schedule
@UNLVAthletics | @TheRunninRebels
LAS VEGAS (UNLVRebels.com) – Last season, the UNLV men's basketball team won 20 games for the first time in four years en route to recording an impressive nine-game improvement in the win column.
As Marvin Menzies enters his third season as head coach of the Runnin' Rebels, the squad returns seven players who saw action last season – the most for UNLV in seven years.
That's the kind of stability that Menzies is accustomed to and what he envisioned when he returned to Las Vegas to lead the program in 2016.
"We are looking to build this the right way and for long-term success," he said. "We decided to do it here with quality high school players who will enjoy a long tenure with the program."
UNLV basketball has a storied history and a proven track record of winning at a high level. It's been done before and it can be done again.
"There is no secret formula," Menzies said. "You go out and recruit high-character kids, but it is a process that takes time. We work on it daily.
"We look for talent, obviously, but then the character of the young men we have in our program is just as important. Beyond basketball players, we look for guys who want to give back to our community, who embrace our great city of Las Vegas, are high achievers in the classroom and can help us win games."
Menzies' plan follows a blueprint that was successful during his nine years leading New Mexico State. The Runnin' Rebels are also extremely active in the community – as their Twitter account (@TheRunninRebels) illustrates – and for the first time in Runnin' Rebel history they have achieved over a 3.0 collective grade point average in two straight semesters.
The large group of returners includes All-Mountain West Second Team performer (senior) Shakur Juiston, who averaged a double-double last season with 14.6 points and 10.0 rebounds per game, sophomore Tervell Beck, senior Kris Clyburn, sophomore Amauri Hardy, sophomore Mbacke Diong, junior Cheickna Dembele and sophomore Jay Green. Senior Noah Robotham and junior Nick Blair, both originally from Las Vegas, were redshirts last season after transferring; sophomore Ben Coupet Jr. used his redshirt year and sophomore Djordjije Sljivancanin had a medical redshirt.
A quartet of talented freshmen has also been added to the roster, making up the No. 2-ranked recruiting class in the Mountain West.
"I am really excited about our freshman class (Trey Woodbury, Bryce Hamilton, Joel Ntambwe and Jonathan Tchamwa Tchatchoua)," Menzies said. "They are all really good additions to the team. It will be one of the exciting subplots to the season – not only will we be better and have grown as a group, but we will still be young with some stable leadership and experience on the floor. Teams with that type of makeup typically have successful seasons."
Every member of the 2018-19 roster will be on campus for workouts this summer, with all but one already in Las Vegas and taking part.
"Everyone has been working extremely hard this offseason," Menzies said. "With the change in rules we have the chance to work with the guys a little more during the summer and we will benefit greatly because of our continuity. The returners will help deliver our messages to the new guys and it only grows from there.
"We are growing and will be better. That's our goal – our No. 1 objective as a staff is to get our young men developed in all areas of life."